Frequently Asked Questions
About Speech to Text Transcription
The quality of transcription depends on many variables. If the transcript contains many errors or is missing any text, please check the following guidelines for the best results:
Best practices
Speak clearly and close to the microphone
Record in a quiet environment without echo
Speak naturally, one person at the time
Select the correct language used in the recording
Record computer audio on the computer and then import the audio file to VoxRec to transcribe
Things to avoid
Recording audio from a speaker (computer, radio, TV, other phone)
Multiple speakers talking at the same time
Note:
Transcription of a pre-recorded audio can provide different and better results than live transcription in real-time
Automatic punctuation currently supported for: Chinese, Czech, Danish, English, Finnish, French, German, Italian, Japanese, Korean, Swedish, Turkish. We are working to add automatic punctuation into more languages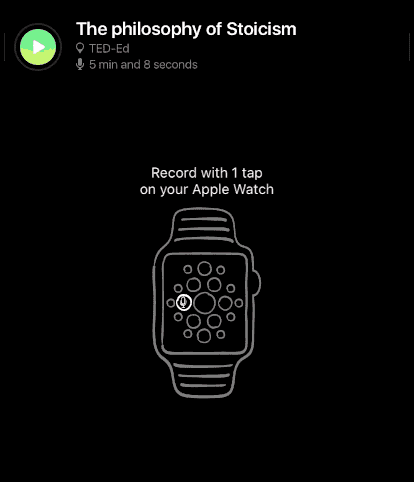 To transcribe a pre-recorded or imported recording:
1. Swipe Left on the recording you want to transcribe
2. Select the language used in the recording
3. Tap Transcribe
Short recordings will take a few seconds to process, longer recordings may take several minutes. (You do not need to keep the app open while it is transcribing)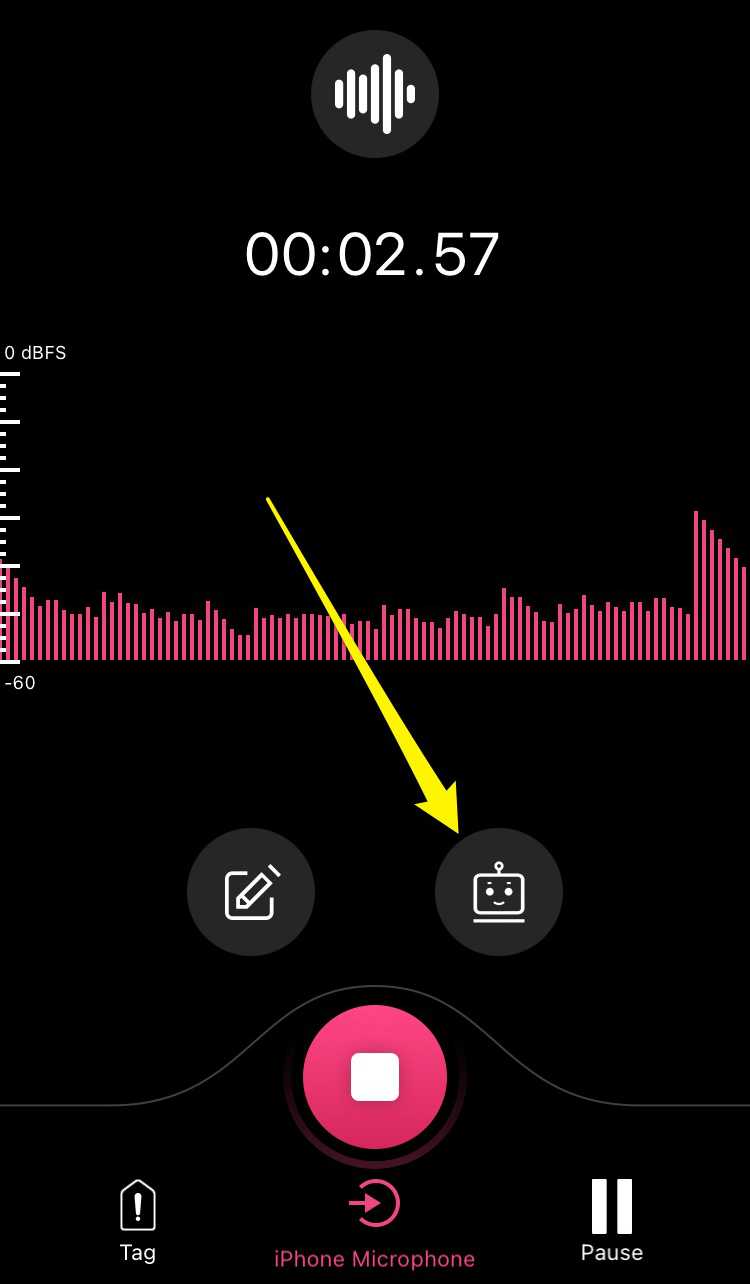 You can activate live dictation to generate an instant transcript as you speak in real-time.
1. Start recording
2. Tap the robot face icon 🤖
3. Speak naturally, transcribed words will appear
There are several options to download the transcript from the app:
1. Export transcript
Swipe Right on the recording and tap Export.
(On iPad, tap on the recording, then tap on the three dots in the top right corner, then Export at the bottom right)
2. Instantly receive transcripts via email
To receive each transcript to your email address automatically, turn on Transcriptions via Email in App's Settings → Transcription.
3. Automatic backup to cloud
When you set up a Backup Folder, all recordings and transcripts will be automatically uploaded to the folder.
You can turn it on in App's Settings → Siri & Cloud Sync → Set Up Backup Folder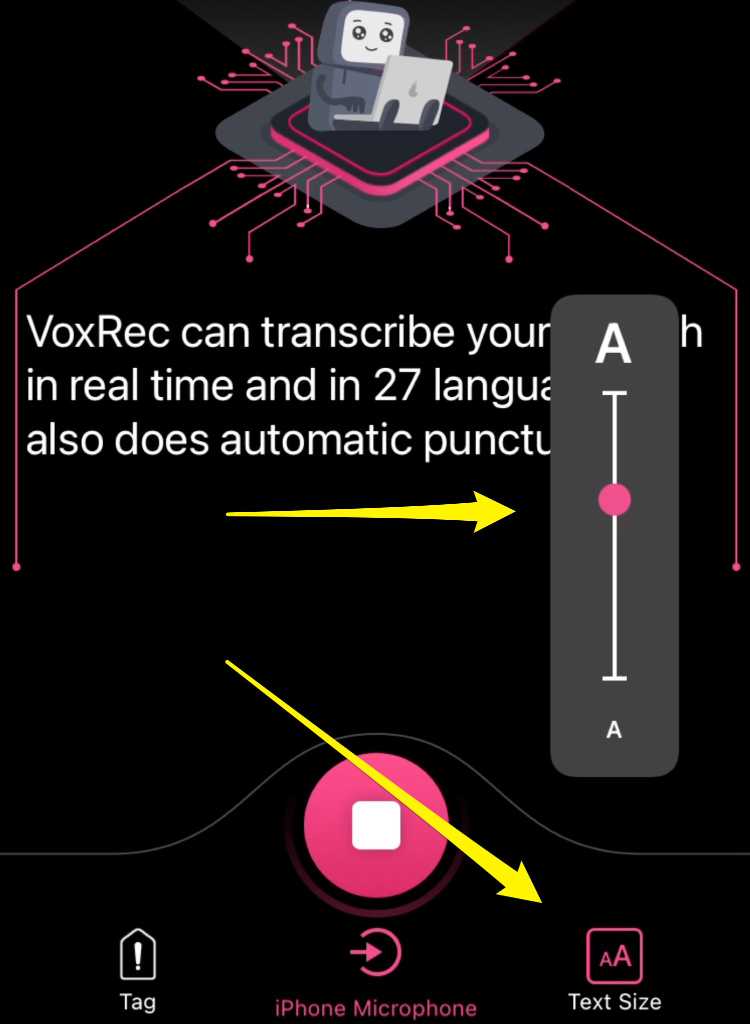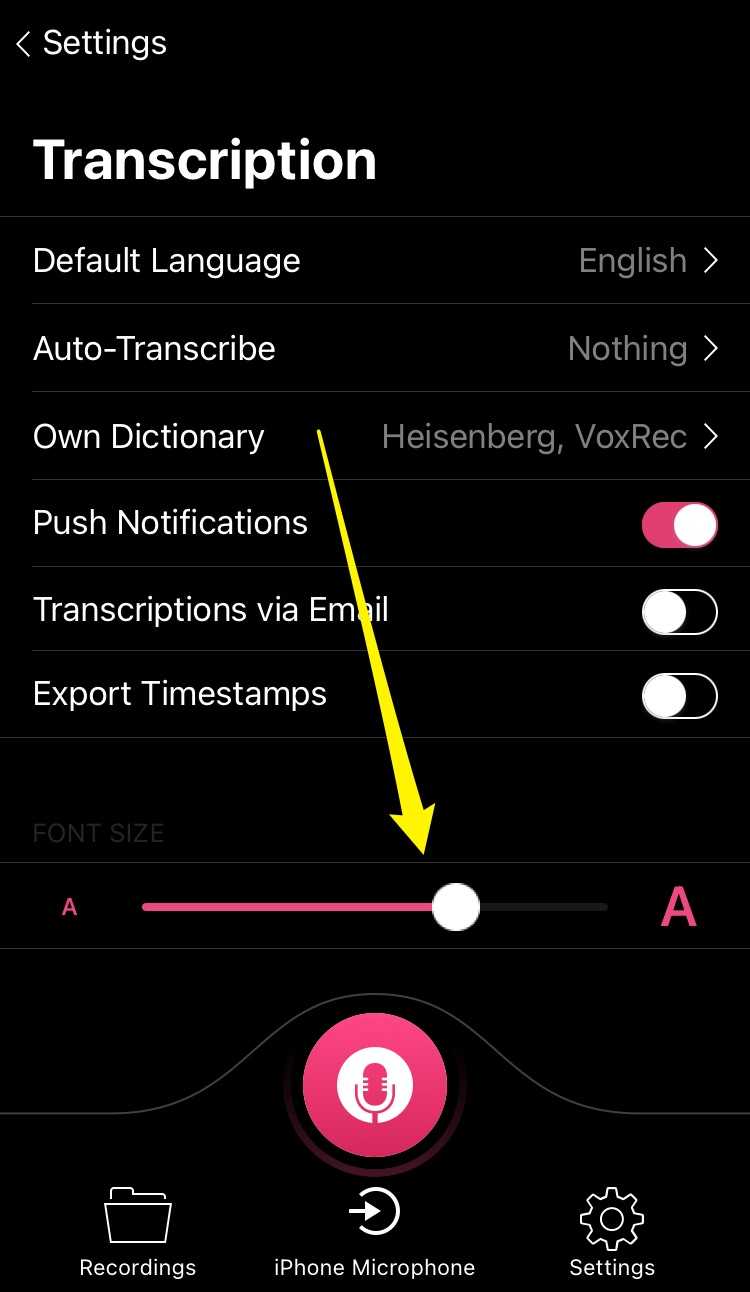 There are two ways to change the font size of the transcript and notes:
Go to Settings → Transcription → Font Size slider towards the bottom of the screen and slide the dot to change font size
When Live Transcription is active: Tap the Text Size icon at the bottom right corner and slide the dot to change the font size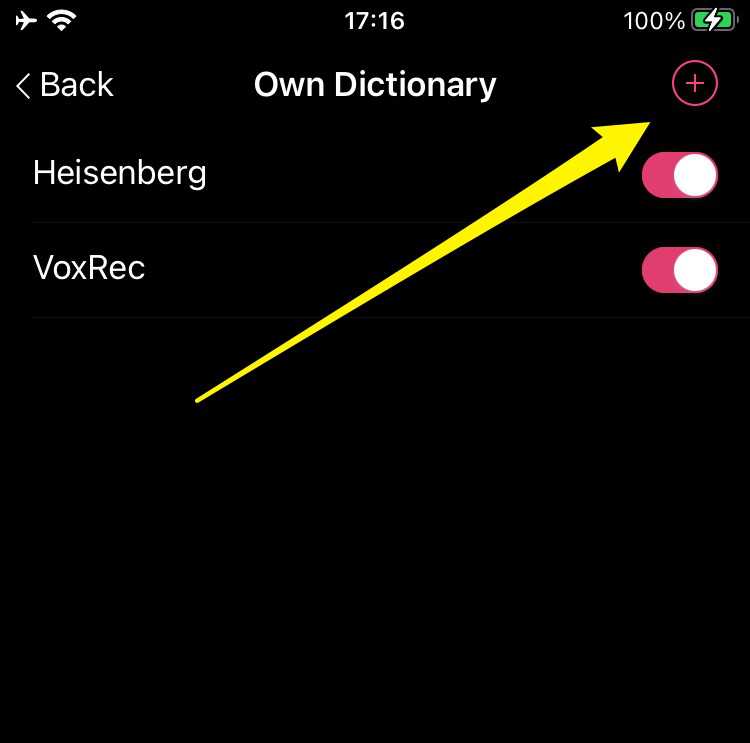 Some industries and professions use unusual words or names that may not be transcribed properly. If there are certain words, names or phrases that are often transcribed incorrectly, you can add them to your Own Dictionary:
1. Open App's Settings → Transcription → Own Dictionary
2. Tap (+) in the top right corner
3. Enter the special word or a phrase
To enable this feature, go to Settings → Transcription → Auto-Transcribe → select either All Recordings or Short Recordings <1 min
If you use VoxRec to record short memos like reminders or ideas, it is recommended to select the Short Recordings option so that only recordings of less than 1 minute duration are automatically transcribed.
You can also have these transcripts automatically delivered to your email. Turn this on in Settings → Transcription → Transcripts via Email
About Recording & Playback
There are several ways to import audio files from other apps into VoxRec:
1. Export from other apps on the same iPhone/iPad
Click Share/Export inside the other app (e.g. Voice Memos), search for VoxRec extension or click (...) and find VoxRec in the list. Tap add to favourites. Tap on the VoxRec icon and files will be imported.
2. Via Airdrop from another iPhone/iPad/Mac
Send files via Airdrop to from device to yours. Your iPhone/iPad will offer an option to import the files into VoxRec.
3. Using Finder on Mac (iTunes on Windows) and USB connection
Files that you want to import have to be inside a folder named Import. Create a folder named "Import" on your computer and store the files inside this folder. Then locate your iPhone in Finder (or iTunes), click on the Files section and find VoxRec. Then drag and drop the Import folder on the VoxRec row.
Tap and hold on the recording name to edit the name.
Resume Last Recording
In the recording list screen - Tap and hold the record button to start recording, the recording will be automatically added to the most recent recording.
Resume Specific Recording
To resume a specific recording, open the recording which you'd like to continue, then tap and hold the record button.
Tags
You can input tags like
#180:30
in the notes section to create a timestamp link to any moment within a recording. When you tap on the tag, the audio playback will jump to the moment of the tag.
Tags can be used in Notes or Transcripts.
The tags have the format of hash symbol + minutes + seconds.
#180:30
will link to the 180 minutes and 30 seconds in the recording.
Important Moments / Bookmarks
You can mark an important moment during a recording by creating a bookmark. Tap the [!] icon in the bottom left corner during recording. This time will be highlighted on the playback timeline as a red dot. You can tap on these dots to start playback at that specific time.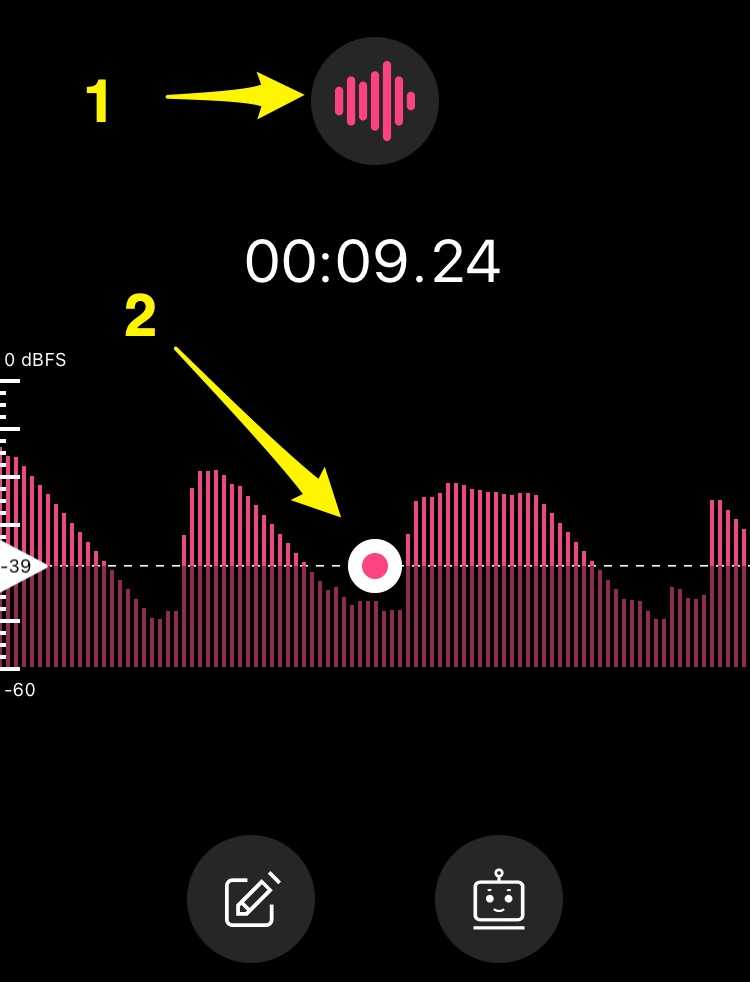 Voice Activation allows you to skip recording the awkward silences, and only record when the volume is above a certain threshold. This takes away the need to pause the recording when you need a minute to think.
1. Start recording
2. Tap the Sound Threshold icon
3. Slide the dot up or down to set the minimum sound level to trigger the recording.
The recording will automatically pause whenever the volume falls below this level.
Tap the Sound Threshold button again to turn off the Volume Threshold feature.
About Other Features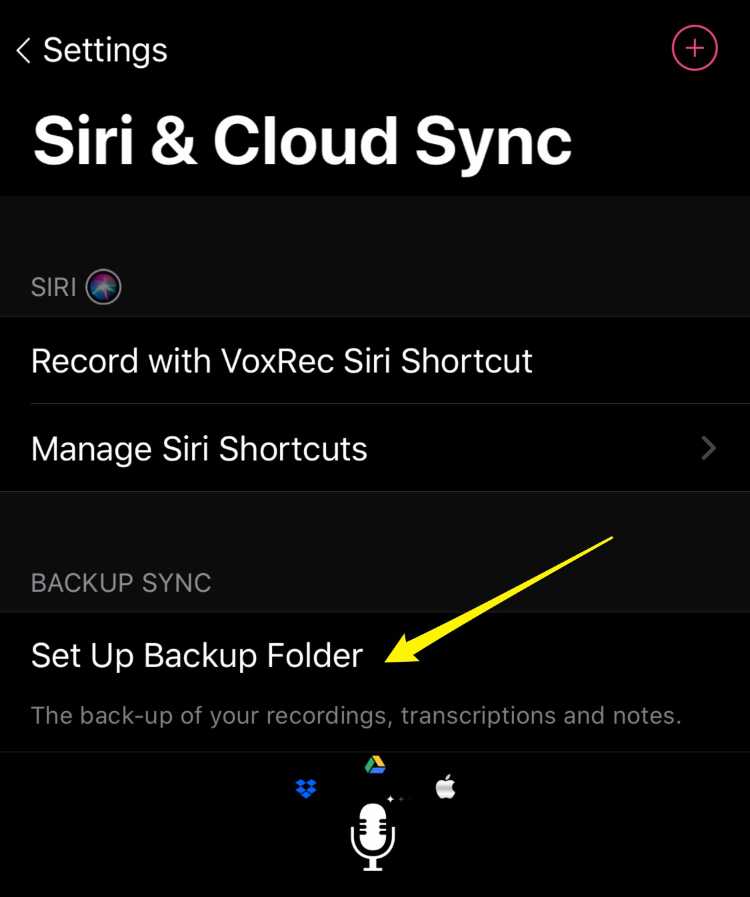 VoxRec can automatically backup all your recording, transcripts and notes to the cloud service of your choice.
1. Tap Settings → Siri & CLoud Sync → Set up Backup Folder.
2. Select you preferred cloud service (Dropbox, Google Drive or iCloud).
3. Authenticate Dropbox/Google Drive and allow VoxRec to access the service.
4. Select folder where you'd like to store your recordings and transcripts.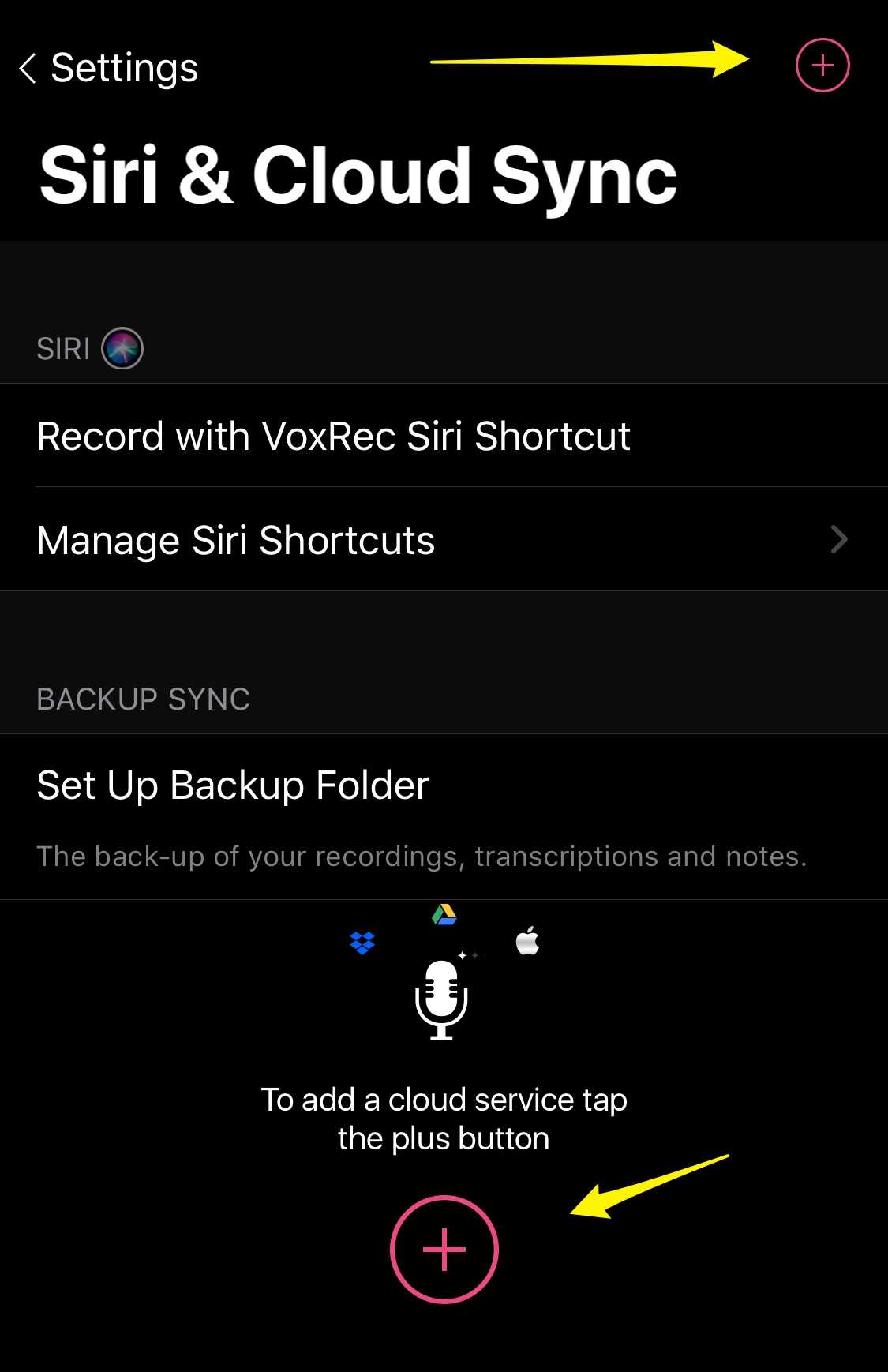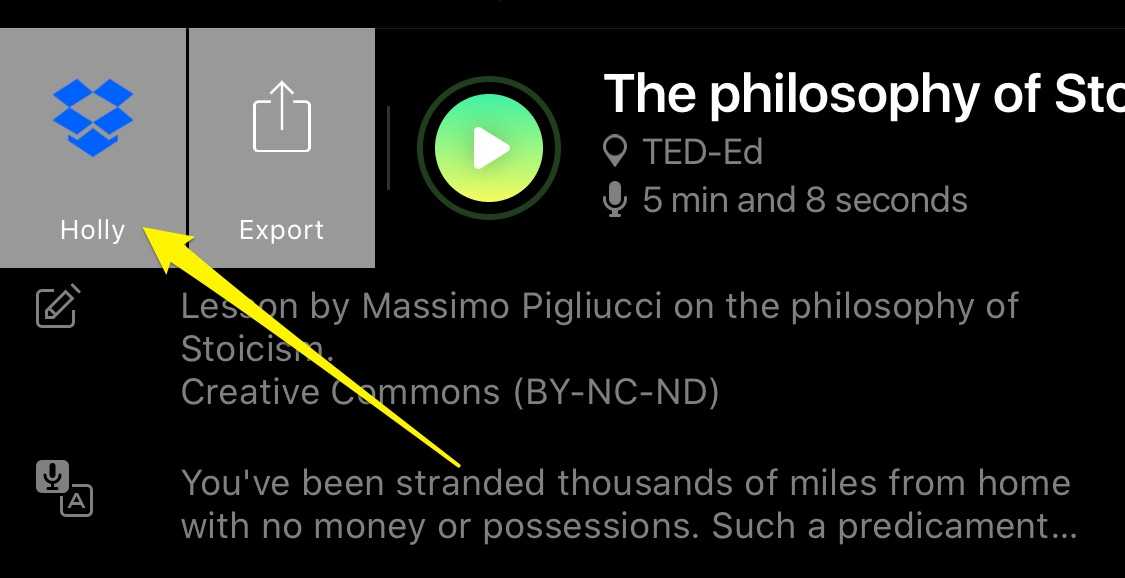 If you often upload recordings and transcripts to different folders, you can set-up these folders as Quick Sync items that will appear in the menu, after you swipe right on a recording.
1. Tap Settings → Siri & CLoud Sync → Tap (+) icon.
2. Select your preferred cloud service (Dropbox, Google Drive or iCloud), authenticate and allow VoxRec to access the service Select a folder in the cloud service.
3. Add Siri Shortcut if you'd like to automatically store recordings in this folder by asking Siri.
4. The folder will then appear when you Swipe Right on any recording.
5. 1-tap on the icon will immediately upload the recording, transcript and notes to this folder.
If you have received a referral code or promo code, you can activate it using the following steps:
1. Download the VoxRec app from the App Store
2. Register and verify your account (Sign-In)
3. Tap on the referral/promo code link on the same device
4. VoxRec app will open and you will see a message confirming the code activation